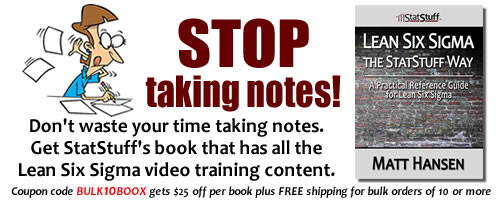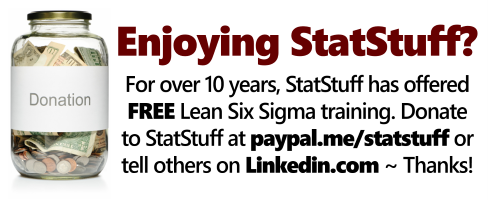 Wanna get certified in Lean Six Sigma?
Whoa, let me stand back in awe of you. Pursuing a certification in Lean Six Sigma (LSS) is not an easy task. It's a big investment in time and work to attain a certification, but it is also very rewarding!
At this time, StatStuff does not offer certifications, but StatStuff's complete training content in this Advanced Path is frequently used by many people pursuing a certification from other organizations. Most training organizations have LSS training that are at least 40 to 200 hours long. StatStuff's 121 videos have less than 28 hours of content; that can save you lots of time and let you learn LSS when it's most convenient for you.
If you'd like to learn more about certifications, check out the article "Straight Answers About Lean Six Sigma Certifications". For further information about LSS certifications or the different LSS roles, feel free to check out the video "Key Roles in a Lean or Six Sigma Project".