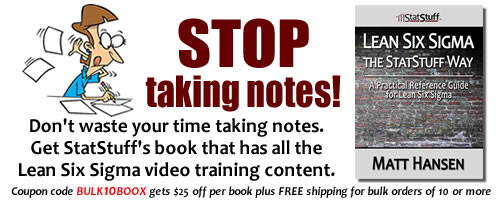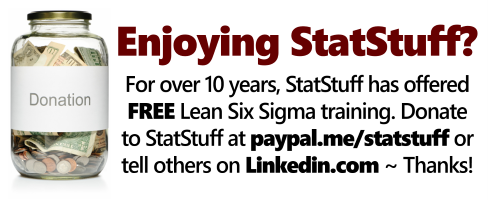 Get ready to jump in!
Ahh, so the appetizer of just learning about Lean Six Sigma (LSS) wasn't enough for you and you want to wade into some deeper waters? Great choice! Nothing says you have to be a certified expert in LSS in order to expertly use and apply the LSS tools. This intermediate path can help you dive into just enough details to learn the most critical tools to help you on your job without having to learn all the complex tools that you may never use.
For example, suppose a colleague is presenting some questionable information in a critical executive meeting. You may be thinking "Something's not right in their presentation, but I'm not exactly sure what it is." It's easy to feel intimidated and perhaps not say anything at all since you don't have clear evidence to challenge the person's conclusions. Well this Intermediate path can help you learn the basic tools and concepts so you can quickly know how to find and test the very things you're questioning. It's a win-win situation: if your conclusions are confirmed, then you can have the statistical evidence you need to more confidently challenge them; or if your conclusions are not confirmed, then you have the statistical evidence to confidently agree with their conclusions. Either way, that kind of basic statistical analysis builds your confidence and understanding.
That's not to say you only use these tools to appease your pessimism or skepticism. But suppose the tables were turned and you're the one presenting your data and someone else challenges your conclusions. That can also be very intimidating. But if you did your own analysis ahead of time that statistically validates your conclusions, then any such opposition is short-lived because you can confidently present data that demonstrates the validity of your conclusions.
Where do I start?
You can start by watching the series of videos listed here that was selected from the full set of LSS training content offered free from StatStuff. In less than 10 hours, these 36 videos can help you learn the most critical tools and concepts without going into the heavy details that are typically required when pursuing a LSS certification. Be sure to watch and apply the "Practical Application" section in each video in order to find ways to put each tool and concept into practice. Remember, if you're hungry for more LSS, you can still dive right into the Advanced Path to learn the LSS training content that can help you get certified in LSS.
What do I do after watching all these videos?
Apply what you learned! Here are some considerations for how to apply the information from these videos:
Take inventory of your current job functions and responsibilities.
For each one, ask yourself the following questions:

How does it align to the level 1 CTQs in the corporate CTQ drilldown?

If it doesn't seem to easily fit into the CTQ drilldown, then why am I doing it at all?
If it aligns to the "Financial Performance" CTQ, then how are the financial benefits calculated? How are the financial benefits categorized (e.g., 1-Direct Tangible, 2-Indirect Tangible, etc.)?

How does it align in priority with all the other job functions and responsibilities?
In what ways am I using a gut-based analysis (e.g., making assumptions) for the job function?

For any critical conclusions made, what types of arguments (from the ABC model) are they based on?

Are they theoretical arguments (assumptions), empirical arguments (experiences), or scientific arguments (data)?

For any theoretical or empirical arguments, how can they be shifted to scientific arguments?
What is the potential impact from more heavily weighing these arguments?

Will it reveal potential flaws in the results that could lead to different actions?
Will it increase confidence (decrease risk) for you and others?
Will it cause faster buy-in from sponsors?

For any job functions or responsibilities that require more analysis, try the following:

Use the DMAIC roadmaps to guide you through the steps to help resolve the problem.
Build a detailed plan for collecting data that is trustworthy.
Use the drilldown for finding the right statistical test to help in analyzing the collected data.
ALWAYS collaborate with others to validate your data collection, analysis, and conclusions.