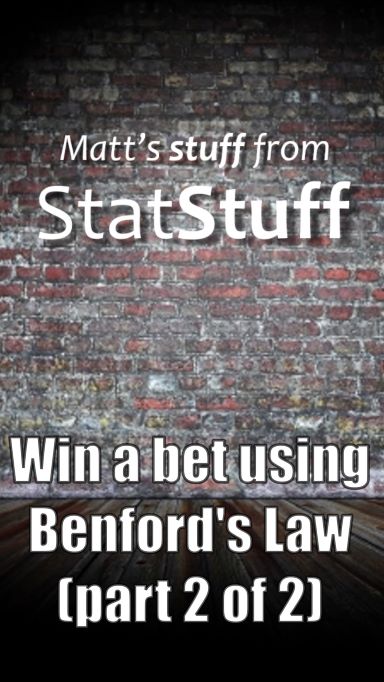 Video Transcript
Remember my video about betting someone that any random article will have more 0's, 1's, and 2's than any of the numbers from 3 thru 9? You see, most people think that numbers printed in articles or books are done so randomly. In general they are, meaning there's no intentional bias in what numbers someone includes in an article. But this concept is based on Benford's Law which describes how if you count the leading significant digit of a number, the probability is that number will be much smaller.
That is, the leading number (like the 1st number of a 2 or 3 digit number) is far more likely to be closer to 1 or 2. But you'll see it's not just limited to that leading number; you can apply the concept to any unique instance of a number. But if you do that, then be sure to include 0 because that happens about as frequently as the number 1.
I did a quick search of 20 random articles and found a 0, 1, and 2 made up an average of 56% of the numbers of the articles. In only 3 of those 20 articles did the numbers 3 to 9 show up more frequently than 0, 1 or 2.
The general concept behind Benford's Law makes sense because we naturally begin all values with a lower number like 1 and increment upward from there; so it makes sense that we'd see these lower numbers appear more frequently. And even after you count past a higher number like 8 or 9, then the next few numbers are 10, 11, and 12 which with just those 3 numbers they represent 6 unique instances. And even after that, a 1 also appears as you continue to increment to 13, 14, 15, and so on.
It's actually because of this concept that many organizations use it for looking for fraud because they expect to see these lower numbers appearing more frequently. If they don't see this natural pattern showing up in their audit, then it suggests something unnatural is happening, such as fraudulent transactions.