You don't have to buy the cow; get the training you want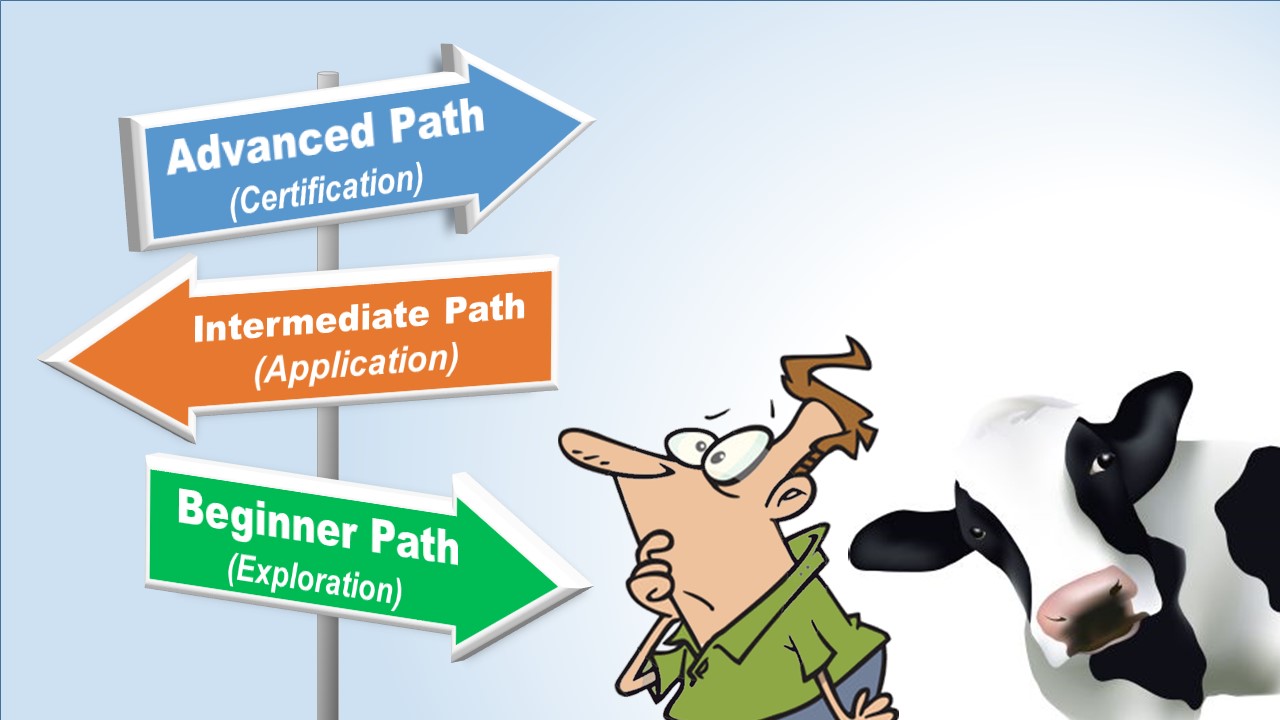 Most training organizations that offer classroom or online training sessions for LSS will usually cram multiple tools or concepts into each session. That may be fine for people new to LSS who desire a certification. But for many other people who don't want or need that much training, it's like forcing them to buy a whole cow when all they want is a glass of milk. That is, it's selling them far more than what they want or need.
Instead of treating training as one-size-fits-all, StatStuff's training is segregated by each LSS tool/concept. That way you learn just what you want in the order you want without being forced to repeat some tools or concepts you don't need or may have already mastered. This approach makes some videos as short as 2 minutes and others over 60 minutes. Altogether, the 121 training videos that add up to less than 28 hours are still far less than what any other training organization offers for LSS. Despite the shorter duration of the training content, the technical details are never compromised and are still sufficient for earning a LSS certification.
Three training paths offer three ways to learn
StatStuff's training content has been compiled into three training paths designed around how much you want to learn and apply LSS. The three training paths are 1) Beginner Path, 2) Intermediate Path, and 3) Advanced Path. Below is a description of each one:
Beginner Training Path – StatStuff already has a brief video to help anyone quickly get an introduction to Lean Six Sigma. But this Beginner Path is a selection of 11 videos (3 hours of content) that provide a more comprehensive introduction to the fundamentals of LSS.
Intermediate Training Path – This path caters to those who may already have a solid understanding of the fundamentals of LSS but don't necessarily need all the complexity for pursuing a certification. It is ideal for those who want "to learn enough to be dangerous" by applying the LSS tools that will most quickly make them effective on the job. This path consists of 36 videos (less than 10 hours of content) hand-selected from the full training course (the Advanced Training Path).
Advanced Training Path – This is the complete LSS training course that's always been offered by StatStuff. It is the original set of videos that are highly endorsed by many leaders from the top companies in the world like Apple, eBay, Sprint, Bank of America, Pepsico, etc. This path is sufficient for learning what you need to be a LSS Green Belt or Black Belt and pursuing a certification. Unlike many other organizations with similar training lasting 40 to 200 hours long, this training path is less than 28 hours of content so that you can more quickly learn what you want.
The videos from the Beginner and Intermediate Training Paths are all part of the Advanced training path, so there's no new or different training content in them. If you're not sure where to begin, start with the Beginner Training Path and move on to the Intermediate and Advanced Training Paths as the need arises. And when you do, you can simply skip over those videos you've already watched in the former training paths.
So whether you're brand new to LSS or perhaps had training long ago and want to get a refresher on some of the tools and concepts, StatStuff has the right training paths and content you need to quickly learn LSS and effectively apply it in your world.