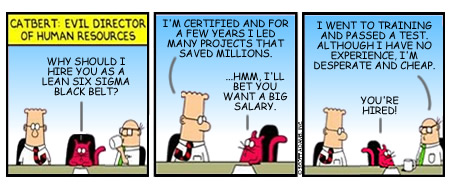 What's the return policy for unqualified Black Belts?
Have you ever returned something to the store that didn't work the way you expected? It's frustrating, isn't it? And it seems that the more time you spent researching that item, the more frustrating it gets when it doesn't work the way you expected.
But what about for people we hire? We can spend a lot of time sifting through many resumes and interviewing candidates just to find that after they're hired, they don't actually have the knowledge or skills you thought they did. Don't you wish they were just like a broken item that you could return to the store? Unfortunately we can't and it can feel like a big waste of time and money.
Believe it or not, this happens a lot when recruiting experts in LSS (like Green Belts or Black Belts). Just because someone has a certification doesn't mean they're qualified.
The Dirty Secret Behind LSS Certifications
A little known secret is that unlike getting a license or certification in accounting, plumbing, electricity, or even the medical field, there is no central organization that governs Lean Six Sigma training or certifications. There are a few big organizations that act like they govern LSS training and certifications, but they actually don't. They're so big because they make it cheap and easy for some unqualified people to get a certification to add to their resume.
You see, many training organizations follow a similar process of requiring a candidate to attend training, pass an exam, and sometimes complete a project which they don't even verify. So would you want to a surgeon to operate on you if you knew he only went to training, passed an exam and no one verified if he successfully operated on any patients? OK, I know that sounds extreme, but why should we hold Lean Six Sigma to any less of a standard when we're talking about hiring someone with special expertise to operate on our business?
How can you trust you're hiring someone with proven expertise in LSS?
Personally, I always recommend an assessment be done by your own in-house experts, like a Master Black Belt (MBB). Another way is through an assessment from StatStuff where we conduct an in-depth interview with the candidate to assess their knowledge of the LSS tools and concepts, their ability to analyze and interpret data, and also their personal qualities such as how well they communicate, how well they present complex ideas with simplicity, and their leadership aptitude. We can do this assessment even on folks who didn't get a formal certification in Lean Six Sigma.

If you're a Black Belt who wants to stand out among your peers for your expertise in Lean Six Sigma, then a certification assessment from StatStuff can help you too! With every assessment (whether purchased by you or a recruiter) you get a certificate validating your expertise in LSS, plus you get a personalized badge you can add to your resume or LinkedIn profile. This can help future recruiters know your expertise has been independently verified by a 3rd party source.
Why use StatStuff for this assessment?
StatStuff has built a strong reputation over the years as a high-quality resource for Lean Six Sigma. We're the only free source for complete Lean Six Sigma training - but just because it's free doesn't mean it's cheap. StatStuff received many accolades from universities and executives at top companies (e.g., Apple, eBay, Pepsico, Honeywell, Wells Fargo, etc.) who not only endorse the high-quality content, but also love the simple and straight-forward way of teaching Lean Six Sigma. So in this way StatStuff can be an independent, 3rd party resource for pre-screening these candidates and helping you save time and money in hiring someone well-qualified in Lean Six Sigma.
For more details about these assessments, please visit http://statstuff.com/products/product/43-certification-assessment.
About StatStuff
StatStuff is the only FREE source for complete Lean Six Sigma training. It is highly endorsed as quality Lean Six Sigma training from leaders at top companies like Apple, eBay, Pepsico, Bank of America, Dell, Sprint, BP, etc. Many other training organizations offer similar LSS training content for $2,000 - $7,000 and their training lasts 40 to 200 hours long. StatStuff's free online training content is less than 28 hours – plus StatStuff offers Beginner and Intermediate training paths that can be completed in far less time. Many companies, training organizations, and universities are using StatStuff for their training curriculum. And why shouldn't they? There's no risk, it's less time, less money, and what better way is there to teach Lean Six Sigma than to apply Lean Six Sigma to their own training plan?